French Bulldog Rescue Network
41 Crossroads Plaza Suite 232
West Hartford, CT 06117
If you would like to surrender your French bulldog, please contact the Regional Intake Coordinator or one of their assistants for your region according to the map below.
FBRN REGIONAL INTAKE COORDINATOR EMAILS
Questions about Foster dogs and Available dogs should be sent to according to FBRN Regional Intake Coordinator Emails. Here is a list of emails.
If your surrender inquiry is about a dog currently in a shelter, please email
[email protected]
(1) W1A – CA : [email protected]
(2) W2A – WA, OR, ID, MT, WY, HI, AK , NV, UT, CO, AZ, NM : [email protected]
Email addresses for questions regarding surrendering your Frenchie, volunteering, fundraising, or donations of items are noted below. All efforts are made to respond to emails within 24 hours.
If you have a medical emergency, contact your veterinarian.
FBRN was created in 2001, and is an independent, North American rescue organization, not affiliated with any AKC breed club. Our purpose is to rescue, rehabilitate and rehome Frenchies in need. The French Bulldog Rescue Network exists solely to address the growing problem of homeless French bulldogs.
FBRN maintains an extensive network of state contacts across the United States and Canada, and an even larger network of volunteers, foster homes, transporters, home-checkers, and family and friends working behind the scenes. We are grateful to everyone who donates time, effort and money to our cause!
FBRN REGIONAL INTAKE COORDINATOR MAP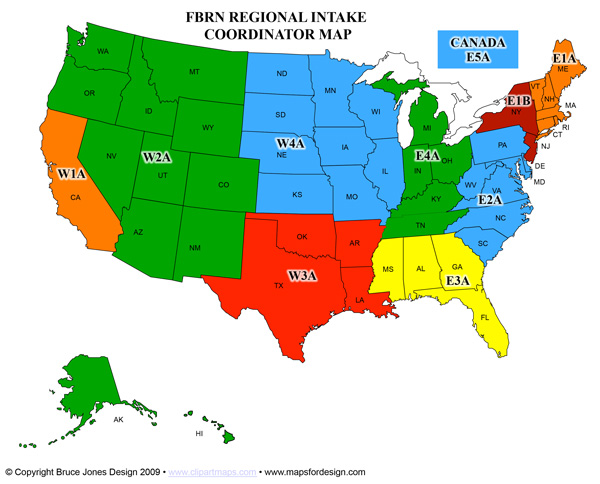 2
W2A – WA, OR, ID, MT, WY, HI, AK , NV, UT, CO, AZ, NM
4
W4A – ND, SD, MN, NE, IA, KS, MO, WI, IL
5
E1A – ME, VT, NH, MA, RI, CT
7
E2A – DE, PA, MD, DC, WV, VA, NC, SC