FBRN's Holiday Auction is now LIVE and open for bids from starting on Tuesday 15 November 2022 at 12:00 noon and ending Saturday 19th November 2022 at 8:00 p.m. eastern. We have many items you can bid on. You can view all the unique Frenchie items here:
https://www.32auctions.com/FBRN2022HolidayAuction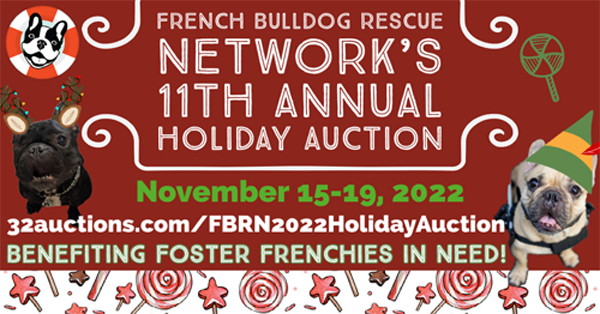 I would be remiss if I did not thank the talented and generous supporters who have donated items for this auction. We would not be able to have such a successful event without you. Nor could I forget all of you who will be bidding on the items. THANK YOU!
Please remember shipping is listed for each item for US shipping. If you won an item and you are shipping outside of the US you need to contact me first, you are responsible to cover all of the actual shipping costs. We will calculate your shipping cost and then you can pay for everything all at once.  My email is [email protected]
Happy bidding and thank you for supporting FBRN Auctions!