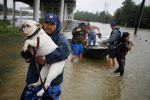 Like many Americans, FBRN volunteers and adopters have watched with alarm over the past years as climate change has meant worsening hurricane seasons for our coastal states and our territories. We've learned that while some states are now allowing pets in some shelters, many people are being turned away with their beloved animals. Nearly fifty per cent of people who choose to stay home in mandatory evacuation areas cite refusal to leave their pets behind as the reason.
Many of us at FBRN can relate to the refusal to leave a pet behind. During Harvey, watching the HSUS, ASPCA, Austin Pets Alive! and other organizations frantically work to clear shelters so animals could be absorbed into Texas and Louisiana animal shelter systems was both uplifting and horrifying. The statistics on lost and dead animals following Harvey were heart-breaking and are still not complete, but we know that Katrina left more than 600,000 pets dead. Support for animals displaced during Harvey and Irma is ongoing. Florence is now upon us.
Thankfully, Florence has been downgraded from a Category 4 storm, but enormous amounts of rain and subsequent flooding are expected. Deaths are likely. Many people will be displaced, with their pets, for many months, as we saw following Sandy.
Florence won't be the last storm this year. We wish all our supporters, adopters, and volunteers a safe hurricane season, and we want to suggest that those in the path of tropical storms or hurricanes take an hour or two to set up a plan for evacuation. Where would you go? Call your local shelters and confirm that they will take your pets. If not, will a hotel take them? What are the rules and fees? Sadly, some hotels and motels are gouging hurricane refugees. Be sure you know where you can go.
Additionally, keep a go-bag for your pets. Poop bags or kitty litter with a 9×13 cake pan or aluminum roasting pan. Put a Sharpie marker in it for writing your phone number on the dog's tummy. Be sure to have your vet's phone number, or even better a thumb drive with your pet's vet records. Print some photos of your dog with family members as well as the ones you keep on your phone, in case you get separated. Keep a toy or two, some towels, a leash and collar with tags, and other proof of ownership. You may want to get a health certificate for your pet if you are going to travel. Keep at least 5 days' worth of canned dog or cat food (kibble can get wet and may get moldy, but a ziplock bag might keep kibble dry) and bottled water, as well as dog bowls. Does your dog take daily meds or supplements? Keep 10 days' worth in the go-bag. It can be so easy in a moment of tension and upset to forget important items, especially if you are packing for yourself and other family members, so a pre-packed backpack or bag is very helpful.
If your dog is smaller, be sure to have a carrying case for them. Buy a small fan to attach to the side of your Frenchie's crate to keep her cool. Keep your cat in a carrying case. You might want to break down a plastic crate for a larger dog if you are able to find a shelter or a hotel that will take you and your dogs–tape the screws and hardware to the sides of the crate so you don't lose them.
As we saw during Harvey, many hotels and Air BnB's opened their doors to hurricane refugees. During Irma, some airlines made special accommodations for people wanting to evacuate with their pets. Churches and community groups opened their doors, and individuals offered rooms, RVs, and motor homes for the use of those seeking safety. We wish our friends the comfort of a loving reception where ever they may find themselves, be it among neighbors, friends, or strangers. Safe travels to you all.